Your internship at STRABAG
Are you looking for an exciting job with perspective?
As an intern at STRABAG, you take the first step towards starting your career and get to know the daily routine of your future job.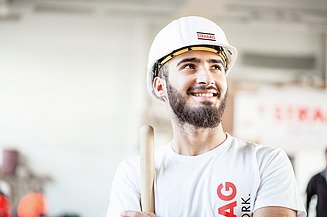 Combining theory and practice. Internship at STRABAG.
Do you want to put your knowledge from your studies into practice whilst working on exciting projects? Then become an intern in an international construction technology Group. At STRABAG, you have the opportunity to work both regionally and internationally - according to your personal wishes and objectives.
Get your first insights into professional practice: support our construction and project managers directly on site or deepen your commercial knowledge in our offices. Together we will lay the foundation for your career.

Mandatory or voluntary internship?
A general distinction is made between mandatory and voluntary internships. The mandatory internship is a fixed component of the curriculum and can vary in length and timing depending on the degree programme or university - a duration of one to three months is common.
If you want to do a voluntary internship, you can determine the time frame yourself. We recommend a duration of at least two to three months so that you can get a realistic impression of a possible future job. A voluntary internship is a good idea if you have already gained some theoretical experience and acquired some specialized knowledge.

Internship - your advantages at STRABAG.
Future employment is genuinely possible! Many of our interns are now permanently employed by STRABAG and are working in their home country or worldwide, depending on their wishes. Gain valuable practical experience during your studies. This will give you a real advantage for your career start and put you one step ahead of other young professionals.
How do I get an internship position?
Have we convinced you? Then contact one of our locations directly and ask about the possibility of doing your internship with us or take a look at our job board. We are looking forward to meeting you!
Find your job