Curious about new ways
25.07.2023
Marion Franyi works part-time at STRABAG in software development. Actually trained in a completely different industry, the 41-year-old became interested in software development as an employee in IT support. Here she explains to you how she is now constantly improving the in-house software at STRABAG.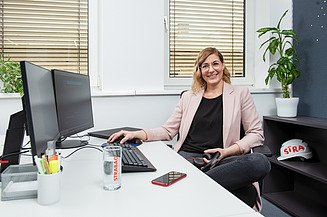 How did you get into software development at STRABAG IT?
In a roundabout way, I would say. I did an apprenticeship in a completely different field. After a few years in my professional life, my curiosity for programming was awakened. That's why I read up intensively, attended courses and learned more and more by "doing". When my child was born, I wanted to use my knowledge in a company closer to home. The job advertisement from STRABAG for the Villach site came at just the right time.
"You're actually supposed to always listen to your gut and just also be brave to break new ground and change every once in a while."
How can you combine family and career at STRABAG?
When I applied, it was clear to me that I was bound to my son's kindergarten hours and that a full-time position was not possible for the time being. I communicated this right from the start, so that we found a good working time model. I work part-time and can thus combine my job very well with my family. Our project-based work in software development also makes this possible. The programming usually has to be completed by a certain date and then I take on projects that can be done in that time frame with my working hours.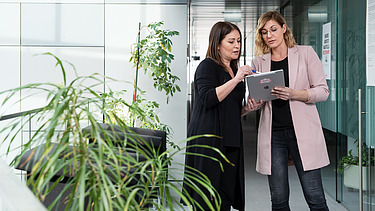 What exactly are your tasks?
I work with five colleagues on the support and further development of our in-house developed ERP software for accounting. More specifically, this involves accounts payable and accounts receivable accounting as well as invoicing. We digitize business processes - for various locations within the international group. There are different accounting requirements depending on the country, and we make sure that these are met, so to speak.
The nice thing is that my work doesn't just consist of pure coding, but also of exchanging ideas with the specialist groups in the accounting department that submit the international orders to us. We are also responsible for organizational tasks related to the project and the program code. So we can help shape the project and that is motivating.
Are there any other advantages to software development at STRABAG?
You can always ask someone if you get stuck. The know-how is simply there in the Group. That gives you the opportunity to specialize; there are other specialists for other areas. The wide variety of projects means that it never gets boring.
We work together in a familiar and friendly atmosphere. I can also simply call the specialist groups that pass on orders to us from Germany and abroad.
"STRABAG offers various development opportunities due to the diverse IT application areas within the international construction group. In addition to an extensive online training program, STRABAG also offers the possibility of onboarding directly with our specialist groups to gain know-how about the specific applications."
How does your work contribute to working on progress?
In the past, everything was printed on lists and sustainability was not yet such a focus. Today, in accounting, people think about avoiding this in advance with digital solutions. We design the software so that printing on paper is not necessary. Transferring data from A to B digitally brings big CO2 savings. You also don't have to sit in the car for hours to drive to meetings when you can discuss it online.
My child already knows the term climate change; he is growing up in a very different time than I am. Sustainability is now a topic that cannot and should not be avoided. In accounting, analog processes were a given, but because it's always been that way, it doesn't always have to stay that way. We are working to make STRABAG fit for the future through the software we program and the way we work.
"Going forward, we need to look at being more resource efficient. With my team, I'm working on other, digitized ways of sharing data to eliminate paper and drive progress."
Working as an IT software developer at STRABAG offers exciting challenges, room for creativity and opportunities for personal and professional development. Both career changers and students will find a suitable job at STRABAG.
Interested? Find your job in IT now