More than zeros and ones
13.07.2023
The IT industry is a dynamic field of work that offers a wide range of opportunities - for both trained IT staff and career changers. STRABAG IT offers exciting career opportunities even without a traditional IT degree. Johannes is a very good example. He is a team leader for construction and other applications in the area of app and ERP development at the Vienna site.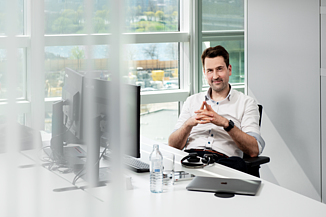 The great thing about STRABAG is that you are never alone with a problem. I really enjoy working with a diverse team in several countries.
Creativity and individuality in software development
Johannes and his team are responsible for developing digital applications that are used throughout the STRABAG Group. On the one hand, they develop software solutions for the construction sites, such as Concrete on Demand (digital concrete ordering) or the digital cycle control board. On the other hand, however, applications for other areas of the Group are also part of their remit, such as the Travel Agency Web for the commercial department of the Travel Office.
Since each project is unique, the work requires creativity and abstract imagination, among other things, in order to recognize all the connections. The team also encounters challenges for which innovative solutions must be sought.
The IT industry is characterized by constant change and progress knows no pause. There is rarely a pattern. Above all, the boom in available tools with artificial intelligence is ushering in a whole new era and supporting innovative ways of digitization.

The integration of artificial intelligence as a tool in software development is also an important topic for Johannes. The goal is to implement an AI tool that supports various areas of development and can, for example, create documentation, explain code sections, and complete or even completely suggest codes. In short: With the help of AI, development processes can be made much more efficient.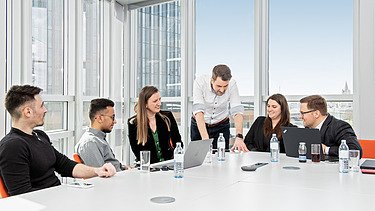 Many paths lead to IT
Johannes had his first contact with programming during his studies in the field of mechanical engineering. As part of his self-employment as the head of a web agency that dealt with software development for web applications, among other things, he was able to expand his knowledge in this area. He then joined STRABAG, where he now heads the "Construction and Other Applications" team.
For Johannes, it is important that his team members are enthusiastic about the challenges in the IT sector and enjoy learning. Then the opportunities are diverse - for career starters and experienced employees alike.
What would you like? Study, further education or training?
Employees who want to develop their careers are actively supported at STRABAG: Johannes, for example, has completed a part-time course of study alongside his full-time job. Some colleagues from Johannes' team are also currently taking advantage of the opportunity to further their education and are studying part-time. There is also the possibility of working on topics for bachelor's or master's theses together with STRABAG.
Other forms of continuing education - such as courses and conferences - are also important in order to keep up with constant progress as well as to be aware of the latest IT topics and trends. Together with the team, Johannes discusses personal goals and wishes as well as suitable training and funding options.
Working as an IT software developer at STRABAG offers exciting challenges, room for creativity and opportunities for personal and professional development. Both career changers and students will find a suitable job at STRABAG.
Interested? Find your job in IT.