Healthy and safe at work
28.04.2023
The people who work for us are our most valuable asset. That's why, as in construction, we are also laying a strong foundation in the areas of prevention and health promotion.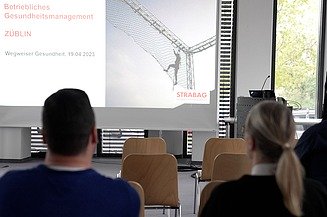 Health, Safety & Wellbeing @ STRABAG
Health Management at STRABAG thinks about more than just exercise and nutrition. Because: Health has many facets. In addition to the physical component, psychological and social well-being also play a major role. That is why we implement specific measures aimed at making both the working conditions and the behavior of our employees in the workplace conducive to health in the long term. To this end, STRABAG Health Management regularly offers various campaigns.

At each of our Health Management sites, our teams coordinate their own site-specific health and course offerings. These include prevention courses, screenings & analyses, lectures, workshops, live sports courses and challenges, as well as target group-specific health management, such as for apprentices and trainees, older employees and managers. On our health blog, we also provide our employees with a wide range of online health offers and knowledge on the subject of health. Another measure is the Health Street, which takes place at least once a year. This is offered both at the office locations and directly on the construction sites by means of our health mobile.

Enclosed are impressions of our safety and health days in Vienna and Karlsruhe this year.